Artist Colony // Krista Engler : Super Massive Textiles
I've been wanting to add more to Artist Colony, so that it isn't just illustrators, but caters for a whole variety of artists (this is what I had planned originally but I got swept away by the mad world of illustrators...). Anyway, after my daily stalk on Instagram, I discovered Krista from Super Massive Textiles. I love the vibrancy of her work, and the beauty of the fabric + her own hand drawn design. She also seems super cool and has two pembroke welsh corgis (can we be friends please??)
Hi! Introduce yourself. How are you? I'm doing great, thanks for asking! My name is Krista, I'm a designer, artist, human who really struggles with titles—I've resorted to simply calling myself a creative professional.
What projects have you been working on lately? I just launched my first line of textiles earlier this month, and I've been working on a big batch of silk scarves and head wraps for various holiday markets that I plan on attending.
What made you want to go into the textile industry? While I was in art school I took a fibers course and fell in love. I ended up taking almost enough classes to major in it, but never made it official. I ended up graduating with a BFA in Graphic Design but I always knew I would revisit fibers and textiles as a medium.
I have a day job as a graphic designer and the things I create are very ephemeral because technology changes so quickly. I was looking to create something more tactile and timeless.
How did you get into the industry? I've only just started to explore, really, but in my experience if you want to do or be something you just have to start doing it, believe in yourself and exude confidence. If you take what you're doing seriously everyone else will too.
What inspires your work? I'm heavily inspired by the natural world, I think mother nature is the absolute best designer. I have a ton of nature and wildlife books that I rifle through for ideas. I also really love gestural marks, anybody can create a dotted or dashed pattern but there's a quality of hand that is unique to each of us that makes it look different. Discovering your quality of hand is almost like learning a new language—it's been really fun for me to explore gestures and marks that come naturally to me.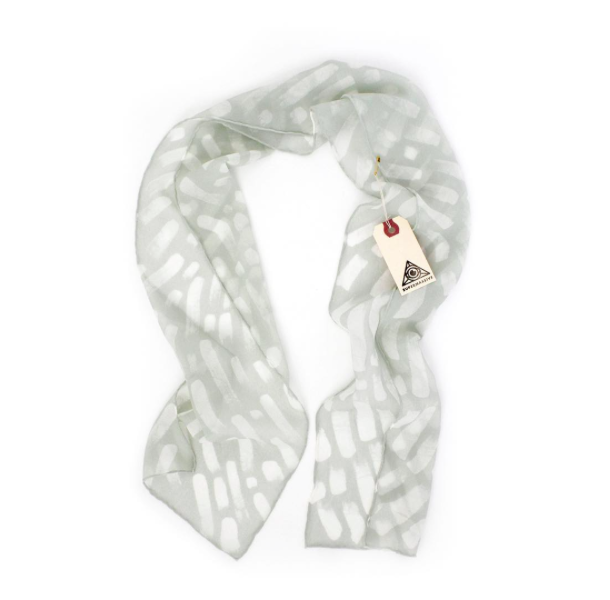 How do you generate ideas for your designs? I set aside time to practice mark making and ideation. For these exercises, I usually work in india ink with big brushes on newsprint. I just try to work really quickly and not think too hard about what I'm doing. I feel like I get the best results when I don't over think my designs too much. I keep a stack of these and reference them for use on my textiles.
What is your design process? I create marks in ink on paper, then I apply those marks to my textiles using a variety of techniques. Currently I'm only working in silk, and I've been employing a technique called batik. It's a wax resist method where you apply heated wax to stretched fabric and then soak the fabric in a dye bath. The areas where wax is applied will resist the dye and stay white.
Favourite item you have? I'm a collector so that's hard for me! I have a huge glass jar of sharks teeth that I've collected over the years.
Favourite and least favourite things about your job are… My favorite thing about being a surface designer is the variety of work involved, as a creative person I think it's really important to take breaks from being artistic and creating my own textiles allows me to do that. After I've created a design there's a lot of not-so-creative work involved in getting that design onto fabric. I actually really enjoy that part of the process because it gives my mind a break and allows me time to think of new ideas I want to try.
Least favorite thing is definitely handling the business side of things, finances, taxes, marketing, etc.
What did you want to be when you were a kid? I could never decide between wanting to be a veterinarian or a musician.
What do you like to do when you are not working on your textiles? I work a lot, but in my spare time I love to travel, go to the beach, walk my dogs. I try to spend my off time as far from computers and phones as possible.
5 facts about you… Gonna go for semi-weird facts!
1. I can recite all 50 united states in alphabetical order
2. I have two pembroke welsh corgis named Mack & Mika
3. I'm obsessed with oddities, I have a small collection in my home including lots of fossilized bones
4. I've been told I'm a HSP (Highly Sensitive Person), which means I'm hypersensitive to external stimuli
5. I love terrible b-horror movies, the worse the better!
Can you give some advice for anyone that wants to pursue a career like your own? What skills do you think are necessary? A degree or some sort of formal education is great, but ultimately make sure that it's something you're passionate about. Don't be afraid to reach out to artists/designers that you admire and talk to them about their experiences. Everyone has their own unique journey, find out what their career path was like. The most valuable skill to have is a curious mind, if you are curious and passionate about what you're doing you'll always succeed.
Who are your inspirations? I really love the work of Helen Levi, Josephine Noel, Tuesday Bassen, Becca Barnet, and Hillery Sproatt.